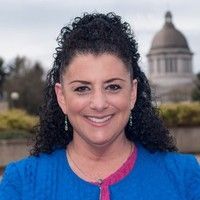 Mrs Reema Griffith
Executive Director
,
Washington State Transportation Commission
Reema Griffith has been the Executive Director of the Washington State Transportation Commission since 2005. Under her leadership, the Transportation Commission serves as the State Tolling Authority, sets the fares and policies for the Washington State Ferry System, leads the state's long-term transportation planning, conducts public outreach and education on transportation matters, provides guidance to the State Legislature and Governor, reviews and approves public/ private partnership agreements, and conducts special studies on finance and policy issues. Since 2012, Reema has led the Commission in conducting Washington State's Road Usage Charge (RUC) Assessment and Statewide Pilot Program. This effort has entailed extensive policy research, a 12-month pilot of RUC with 2,000 participants statewide, and a bi-state/ international interoperability test.
Prior to the Commission, past positions held by Reema include: serving as a Senior Policy and Fiscal Analyst to the State House and Senate Transportation Committees; serving as the Executive Policy Advisor to the Director of the Department of Licensing; and serving as the General Manager for the U.S. office of an international trading company.