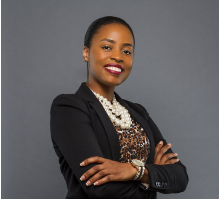 Tanya Bedward
Senior Director, Transport Policy (International and Land)
,
Ministry of Transport and Mining
Tanya Bedward (JP) is the Senior Director, Transport Policy (International & Land) at the Ministry of Transport and Mining in Jamaica where she has worked for in excess of fourteen (14) years. She has tremendous knowledge and experience in transport administration at the Central Government level, spanning the areas of transport planning, transport policy development, projects development and implementation, government procurement among others.
She is a Director on the Boards of Jamaica's Toll Authority, and the Airports Authority of Jamaica. Miss Bedward has also been integrally involved on several teams, tasked with evaluating the various aspects of the different modes of transport, with a view to developing and streamlining policies to enhance the efficiency, effectiveness and sustainability of the island's transport sector.
She has taught at the University of Technology, Jamaica on a part time basis for several years. She currently resides in Jamaica.
Education and Credentials
Ph.D. Candidate University of the West Indies Mona: Sustainable Development (2016- present)
M.Sc. Georgia Institute of Technology: City and Regional Planning (Transport Specialization), 2013
M.Sc. (Dist.) University of the West Indies, Trinidad: Planning and Development, 2003
B.Sc. (Hon.) University of Technology, Jamaica: Urban and Regional Planning, 2000
Fulbright Graduate Scholarship Recipient 2011